As Joshua Becker rightly quoted, "The goal of minimalism, let's remember, is not just to own less stuff. The goal of minimalism is to unburden our lives so we can accomplish more." Believing the same, Concepts Architects is here to help you get the best interior designs and architecture for your place.
It is a dream of every single individual to have a beautiful house, blended with lots of memories, love, ambience, and a better interior which changes that house into a home. Concepts Architects is here to help you chase your dream and transform your ideas into reality.
We, at Concepts Architects, try to maintain the astatic in the space around you. The mood of a person depends on the area around him, at that particular point in time. So the dwelling framework where everyone requires to be a positive and calm one is provided by us, by means of immaculate architectural plans, infallible interior designs, and dexterous landscape arrangements. We help you to optimize your space effectively, by moulding the best of it.
We make sure that our working space is not just beautiful but safe, functional, and present. We also discuss with our clients to get an idea about their taste to choose the preferable colour and designs.
Providing Quality Services Since 2003
Concepts Architects & Interior Designers offers various services within the affordable building solutions, from part to entire house worldwide, based on an online solution through our designed portal. Our intention of starting the company is to compete with leading players in the affordable construction solutions cum real-estate industry worldwide, via the quick and efficient online platform.
Concept Architects mainly targets lower-income and middle-income groups to suffice the gap between service quality and living standards. The team involved in Concept Architects has more than 18+ years of comprehensive experience, in sculpturing the Construction sector's needs. In this experience, the team has completed several housing and commercial projects around India with their knowledge.
We are well prepared to make profits from the industry, and we will continue to do all that is permitted by the law to achieve our business goals, aim, and ambitions. Our business offerings are –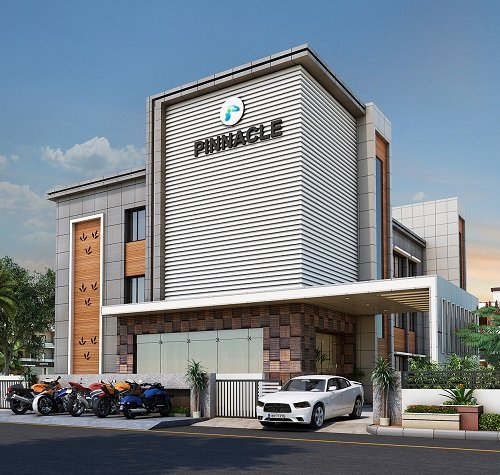 1. Providing affordable solutions for various housing activities from part to whole.
2. Providing cost-effective architectural and design services for LIG & MIG class.
3. Providing free advisory in terms of housing solutions to increase the standard of living.
4. Providing access to various financial proposals to a layman to get the maximum benefit of governmental solutions.
5. Spreading awareness towards the architectural and interior design industry in LIG and MIG class.
6. Creating employment for a wide range of populations, even for household ladies.
How Do We Work At Concepts Architects & Interior Designers?
Regular Meetings With The Client:
We are not just doing our part; instead, we are ready to spend more time with our clients and actively participate in our work. Your dream space is not only a workspace for us, but the space where our clients need to spend their time happily. So it is our primary concern to make the area impressive. Meeting with the client will help us get the minute details they love to have. We are ready to work on it and provide 100% from our side.
Cost-saving:
We help you to choose the best for your space, even more budget-friendly. We help you choose the best available in the market, the one which is trendy and classy. This will help you to avoid remodelling and renovations as time passes. We have an experienced team to help you find required products at their best quality and at a lower cost. Besides buying luxury products and spending more on them, we offer budget-friendly yet classy products, that won't be a burden for you in the future.
High-quality products:
As we have mentioned, we are particular in choosing products for our clients. We are not just buying high-end products, instead, we make it worth the money our clients invest in. It will help you to enhance the appearance and quality of the room.
Safety:
The most important thing for us is nothing else but safety; if we do not focus on that, it may harm anyone, especially if there are children. Fragile and dangerous products may cause harm to every individual. That is why we are compactly particular about safety. Accurate safety measures in a wisely designed space are placed according to our clients' safety.
Make space active and functional:
Functionality is one of the most important features, at the same time, a complicated process for us. A better functional space is that where our client can comfortably perform their actions. Functionality is one of the most basic forms that we could deliver to our client. Maintaining the balance between beauty and utility is what we are aware of and work on.

Expertise in Different Verticals of Architecture and Designs
As a successful team in architecture and designs, we have a strong team of experts who have keen knowledge in maths and science; which is essential to understand how and why some designs may or may not work. For this, we also have a backup calculation. We have mainly specialized in;
Residential

Commercial

Landscaping

Interior Architecture

Urban Designs

Green Building

Industrial Architecture.
-Residential architects teamwork with house owners to improve their design and work with home developers and builders. Most of the time, we work directly with our clients.
-Whereas Commercial architects design office buildings, hotels, and other buildings for your business purposes. We work on functional building designs which provide efficient circulation for the building users.
-Our landscaping architects design outdoor spaces such as gardens, parks, campuses, etc. They create these spaces to make them more enjoyable for our clients.
-Interior architects are in charge of the interior space like living space. The team has an excellent knowledge of colors, fabrics, furniture, and also related elements.
-Our urban design architects deal with designing entire neighbourhoods and cities. They have a great idea of combining building architecture and landscaping. They are very much keen on creating paths, streets, skylines, and all.
-Our Green design architecture team is impressively popular, as they are very much appreciated for their efforts to reduce the environmental impact. They keep the buildings more eco-friendly. Also, use renewable energy for the designing purpose.
-Our industrial architecture team knows how to utilize the space effectively to help industrial clients. They use the area wisely to improve the quality of the workspace and reduce the cost of work.
Are we just about Architecture & Interior designing services? 
No! That's not it! With us works for the most skilful team -' Antz n Bees', who are into Concept development, art direction, post-production, who are synonymous of killing the monotony and dullness for our clients' further construction-related issues. Antz n Bees are creatives, designers, producers, and technologists, who share a passion for creating great ideas, designs, and further translation of the same into engaging, intelligent, and innovative user experiences and audiences. Both 'V Cube' and 'Antz n Bees' work collaboratively to present the best results.
So with such expertise, multidimensional approaches, and efficient services, we are ready to serve you with open hands. Contact us for more, and visit our website for the services we provide.

1. Why should I go for the architecture service?
You want to make your dream space with each highlighted key point; then you should always go with architecture services as this will give you the same thing you desire. This is the same for the simple to complex place because if you want everything done effectively with leaving proper space, you must go for the architecture services.
2. What are the steps towards successful architectural planning at Concepts Architects?
The architecture service steps include pre-designing, schematic designing, construction document preparations, construction administrations, feasibility studies, and much more.
3. How much does the architecture service provider charge?
An average architecture service provides charges upon the area that is allowed to work, but as per the market trend, a professional may charge 3% on the cost for up to 2 hectares and 2.5% for 2.5 to 5 hectares, and at last, they may charge 2% on the more than 5-hectare lands.
4. How does an interior designer do work for clients at Concepts Architects?
First, the professional interior designer consults with the client and gets the complete info about what they need. Then the designer starts outlining the project and confirms with clients to ensure the work that will look like. And the job gets started after the approval of the client.
5. In which cities the concept architecture services are available?
The concept architecture is delivering quality work all over Nagpur, Maharashtra. So, if you are required to do such work, but you are situated somewhere out of Nagpur, then you can contact Concepts Architects for more details.
6. What is the difference between interior designer and architecture?
The interior architecture focuses on the functionality of the space available in the area. And the interior designer gives attention to the key points that will help the space to look more beautiful and unique.
7. How can a designer at Concepts Architects help me get the best materials?
The designers at Concepts Architects know actually what things are needed and from where to get such material. Also, they can suggest the best and trusted shops get the required items as they have the complete knowledge of the shops that offer the unique products.
8. What are all inputs that we, at Concepts Architects, take from clients before proceeding with work?
First of all, we meet up with clients and then discuss what they want from us on the project. All the essential terms are happening on the table to keep 100% transparency.
9. What if I need some additional work from the designer?
Our designers are polite and humble, so if you are required extra work, they can provide you that as well, but you need to discuss it with us first.
10. What is the first step of hiring an interior designer cum architecture?
The first step of hiring an interior designer cum architecture is seeing the experience and the working testimonials to understand more about the professional. Also, this is better to get information about the project's duration and the cost that it will incur.
11. How do you identify the cost of the project?
This is one of the crucial factors that affect the work a lot. So, the cost of the project is calculated by examination of the materials, which will be used in the respective project. The area where we have to work, the expectation you have, and many other vital factors. After knowing all these kinds of information, we create the cost framework that will be incurred.
12. Why do some designers charge less than the market rate?
Some professionals charge less as they have less experience and a weak portfolio but are offering quality work with our experienced professionals on a limited budget afforded by anyone. You need not run after for the lower price, but yes, you can get premium work at a given account.
13. Can you incorporate the elements that I want?
Yes, we offer any kind of service to our customers, so if you need any support in terms of any elements you want to incorporate, you can expect us.
14. Can you provide the material samples that you use?
Yes, we will provide sample material to you to make sure we do not compromise with quality. By showing this, we build up the trust of the customer.
15. Do you have a dedicated team to perform the project at a fast pace?
Yes, we have a dedicated team who do their best to perform any challenging project within a given time framework. So, hurry to contact us for more.
16. From where do you get furniture and other items?
We get all the items from the registered and authorized venture partners of ours, so you need not worry about the material's quality. We provide complete information from where we got this product for your project. To reduce the stress, you can call our team, and we will help you for sure.
Address
8th Floor, Da Rock, Plot No. 230, Hill Rd, Shivaji Nagar, Nagpur, Maharashtra 440010
Phone
+91 9823118144
+91 8669666670
Email
info@conceptsarchitects.com