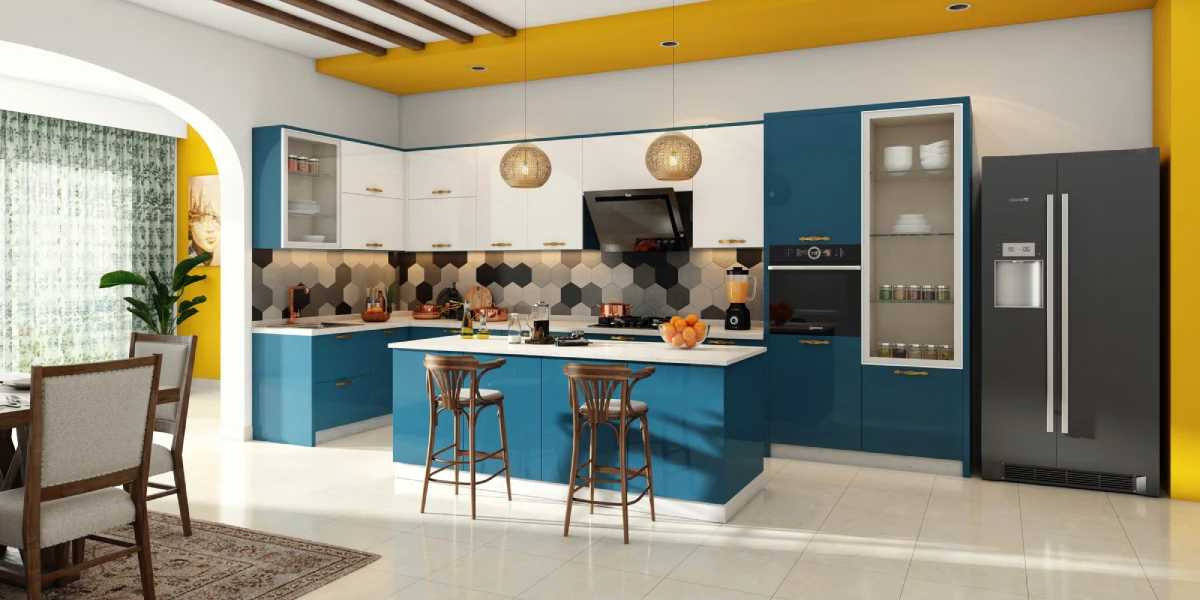 We Design Aesthetic Modular Kitchens to Improve Lifestyle.
Design your Kitchen from Experts. India's Top Architects and Interior Designers.
We Design Aesthetic Modular Kitchens to Improve Lifestyle.
Design your Kitchen from Experts. India's Top Architects and Interior Designers.
Why Prefer Concepts Modular Kitchens
Loved by 1000 of Customers
Types of Modular Kitchen you are Searching for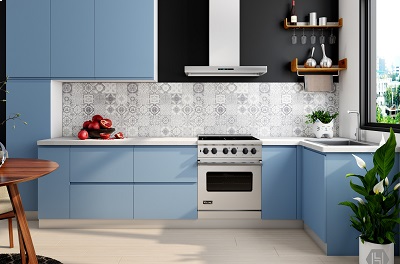 L-SHAPE KITCHEN
L-Shaped Modular Kitchens form one of the most efficient kitchen layouts of the modern home. It is formed of two adjacent walls and cabinets; appliances are installed along the wall. They offer two workspaces and an open area in the centre. L-shaped kitchen layouts are mostly suited to smaller spaces, to make ease of movement between the sink, stove and refrigerator.
A kitchen island can also be added to expand the storage to the L-shaped kitchen for additional space. These Sleek and Trendy design of the L-shaped modular kitchens offers a great kitchen experience.
PARALLEL KITCHEN
A Parallel Modular Kitchen is an idea adopted in modern times due to its compact design yet efficiency. Here, two long kitchen platforms along with their cabinets, both top and bottom and either side of the kitchen, run parallel to each other and an aisle that makes the work area easily accessible.
The compact work area makes an efficient cooking zone, thus, simplifying and speeding up the cooking process. Parallel shaped modular kitchens are cost-effective and offer lots of flexibility.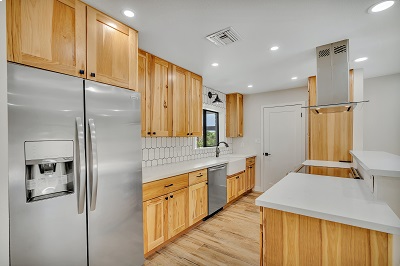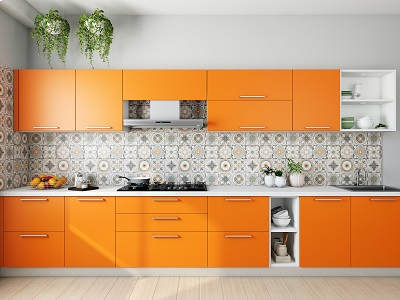 STRAIGHT KITCHEN
Straight Modular Kitchen is an ideal layout for small apartments as it is entirely built into one wall. The straight kitchen layout is also known as a one-wall kitchen. With a compact design, a straight kitchen is very efficient.
The major functional units like the stove, sink, and refrigerator are placed linearly to make the workflow seamless. These (straight modular kitchen) space saver layouts offer a minimalistic style and give a classy look.
U SHAPE KITCHEN
U-Shape Modular Kitchens have great look for their aesthetics and clear appearance and maximum space utilisation. These kitchen layouts utilise every corner of the room; using three adjacent sides lined with cabinets and offering maximum space for the work area.
This ample space gives a convenient work triangle between the stove, fridge and sink and keeps all the cooking essentials within the reach of the chef.
The free floor space can make a kitchen island and this can be accessible to more than one person at the same time. This will create an atmosphere of togetherness and sociableness.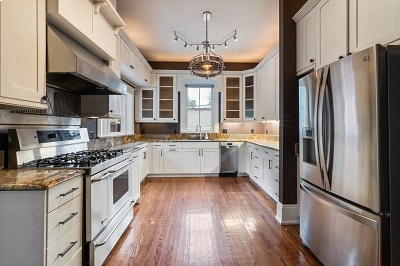 Types of Interior Designing Services we Offer
Dining Area Interior Design
Common Hall Interior Design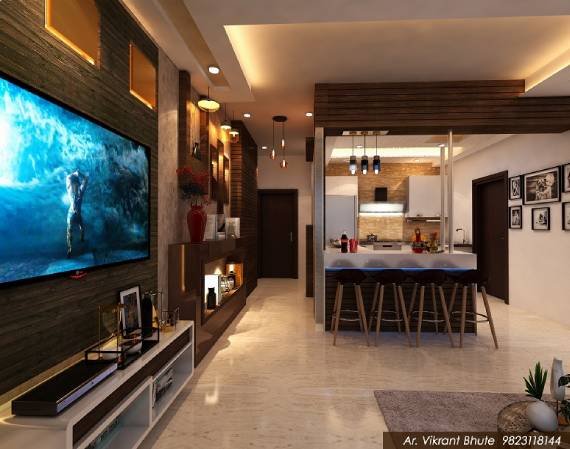 Guest Hall Interior Design
Get Free Quote
Share your details, our design expert will connect with you to understand your requirement
Call Now: 9823118144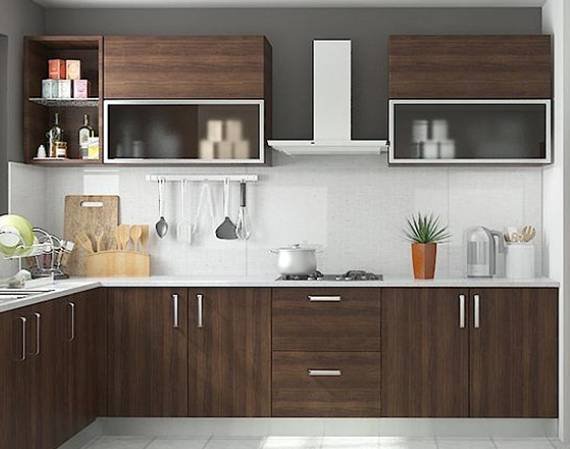 We are the Leading
Architects and Interior Designers in India.

Architects & Interior Designers
From dream to final construction, Concepts Architects & Interior Designers focus on satisfying the goals of clients by bringing marketable architecture and interior designs to life.
Free Customer Consultation
If you are our customer, you probably know that Concepts Architects provides a free consultation where we discuss all the requirements that one needs and provides helpful tips and ideas to make the project more attractive…
Focuses On MIG And LIG
As we have a dedicated team that takes care of everybody who needs such service and provides budget-oriented service. They educate the MIG and LIG to take such services at an affordable rate with complete guidance…
Competitive Pricing
Somehow, having a beautiful home costs too much and interior design companies' charges goes higher. Our expert team analyzes the need and utilizes selected items for design and architecture so that the team comes up…
Over 18 Years Experience
The company was situated in 2003, and now it has been more than 18 years. Therefore, we have much experience in this field and have a well-balanced network as well. We have seen uptrends and downtrends…
How do our Interior Designing services do magic in your space?
Designing your space with elegance helps you to uplift the mood and style. Interior designing is something that utilizes your space effectively, with proper designs.
Concepts Architects believes in the functionality of the area so that we design space with appropriate care. Interior with beauty, safety, and functionality is our plan. Our designs give a touch of aesthetics to your area.
We have expert and talented professionals who could choose the perfect design, suitable colours, materials, wallpapers, and floorings for your home, which suits the construction and space you have.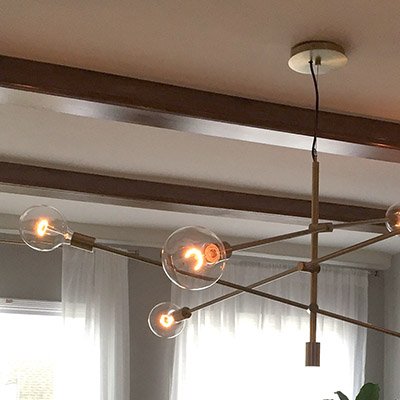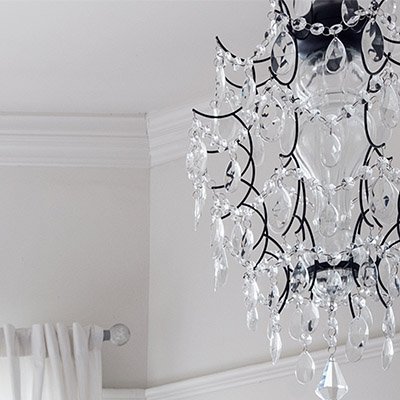 Important Things We Consider While Designing Interior
As we mentioned, our experts have keen knowledge in finding suitable things for you. We help our clients make a pocket-friendly budget, helping them enjoy their space stress-free, by providing them with affordable All-In-Rates.
Concepts Architecture and Interior Designers do not make you invest in unnecessary expenses; instead allows you to make money worth it. But not to forget that affordability from our services will anyways lead to having a Performance Gap! No, that never happens here, at Concepts Architects.
We never compromise on the quality of the furniture and amenities we use; we make it within the budget with so much attention.
Address
8th Floor, Da Rock, Plot No. 230,
Hill Rd, Shivaji Nagar,
Nagpur, Maharashtra 440010
Phone
+91 9823118144
+91 8669666670
Email
info@conceptsarchitects.com
Address
8th Floor, Da Rock, Plot No. 230, Hill Rd, Shivaji Nagar, Nagpur, Maharashtra 440010
Phone
+91 9823118144
+91 8669666670
Email
info@conceptsarchitects.com